Dr. Judith Terstriep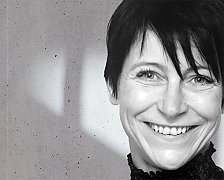 Head of Research Department Innovation, Space & Culture

Dr Judith TERSTRIEP (Economist) – is Head of Research Department »Innovation, Space & Culture« at the Institute for Work and Technology at the Westphalian University Gelsenkirchen and lecturer at the Ruhr-University Bochum. She has long-term experience in (social) innovation research. Primary research interests involve the interplay of innovation, (social) relations and knowledge from the perspective of innovation, management and spatial theory. Focal areas of work cover social innovation and its measurement, innovation strategies, regional development, smart and inclusive growth, networks & cluster, sectoral and regional analyses. Judith is well-experienced in the coordination of European, national and regional joint projects and has been appointed as an expert by the European Commission, federal ministries and various foundations. She received her doctorate from the TU Hamburg on the topic »Innovation, Knowledge and Relations – On the Role of Clusters for Firms' Innovativeness«. Currently, she coordinates the joint project IndiSI – Social Innovation Indicators funded by the Federal Ministry of Education and Research Germany which develops indicator sets to measure social innovation concerning organizational innovativeness, regional innovation capacity and early indicators in discourse.
Focal Areas of Work & Research:
Regional development & innovation strategies (including transnational action plans)
Smart Specialisation
Social innovation and its economic underpinnings
Networks, cluster, cluster management & the micro-foundation of clusters
Sector/regional analyses, benchmarking, evaluation
Coordination of European joint projects
In her ongoing PhD thesis, she studies cluster effects on firms' innovativeness and performance. The work is being supervised Prof. Dr. Christian Lüthje (Institute for Marketing and Innovation at the TU Hamburg-Harburg) and PD Dr. Dieter Rehfeld.
Memberships/Further Activities:
CIN

et – Continuous Innovation Network

TCI

Research Community

KIS

-IP Horizontal Steering Group (EU)
Project evaluator for the European Commission
Former member of the Europe

INNOVA

Innovation Panel on

ICT

s
English Publications (Selection)
Year
Title / Citation
Document type
Links / Downloads
2022

2022:

Strengthening place attachment through place-sensitive participatory regional policy in a less developed region


Citation:

Butzin, A., & Terstriep, J. (2022): Strengthening place attachment through place-sensitive participatory regional policy in a less developed region. European Planning Studies, 1-21. https://doi.org/10.1080/09654313.2022.2156274

Document type:

Journal article

Links / Downloads:

---

2022

2022:

Pinning it down? Measuring innovation for sustainability transitions


Citation:

Krlev, G. & Terstriep, J. (2022): Pinning it down? Measuring innovation for sustainability transitions. , 45, 270-288. https://doi.org/10.1016/j.eist.2022.11.005

Document type:

Journal article

Links / Downloads:

---

2021

2021:

Measuring Social Innovation


Citation:

Terstriep, J., Krlev, G., Mildenberger, G., Strambach, S., Thurmann, J.-F., & Wloka, L.-F. (2021): Measuring Social Innovation. In Howaldt, J., Kaletka, C., & Schröder, A. (Eds.), A Research Agenda for Social Innovation (263-286). Cheltenham: Edward Elgar. https://doi.org/10.4337/9781789909357.00024

Document type:

Article in

Links / Downloads:

---

2021

2021:

Ambition meets Reality: Mission-Oriented Innovation Policy as a Driver for Participative Governance


Citation:

Rabadjieva, M. & Terstriep, J. (2021): Ambition meets Reality: Mission-Oriented Innovation Policy as a Driver for Participative Governance. Sustainability, 13 (1), 1-23. https://doi.org/10.3390/su13010231

Document type:

Journal article

Links / Downloads:

---
Show all Publications