Dr. Judith Terstriep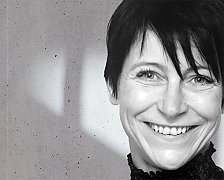 Head of Research Department Innovation, Space & Culture
Judith Terstriep (Economist) studied economics at the University Duisburg-Essen with a focus «Marketing» and «Planning & Organisation». She graduated in 1998 as a «Master of Business Economics» including her diploma thesis on the «Markt Potential of Voice over IP in Germany».
Since March 2002, she has been working as researcher at the department «Innovation, Space & Culture» at the Institute for Work and Technology and since February 2017 she is head of the research department.
Her primary research interests involve the interplay of innovation, (social) relations and knowledge from the perspective of innovation, management and spatial theory.
Focal Areas of Work & Research:
Regional development & innovation strategies (including transnational action plans)
Smart Specialisation
Social innovation and its economic underpinnings
Networks, cluster, cluster management & the micro-foundation of clusters
Sector/regional analyses, benchmarking, evaluation
Coordination of European joint projects
In her ongoing PhD thesis, she studies cluster effects on firms' innovativeness and performance. The work is being supervised Prof. Dr. Christian Lüthje (Institute for Marketing and Innovation at the TU Hamburg-Harburg) and PD Dr. Dieter Rehfeld.
Memberships/Further Activities:
CIN

et – Continuous Innovation Network

TCI

Research Community

KIS

-IP Horizontal Steering Group (EU)
Project evaluator for the European Commission
Former member of the Europe

INNOVA

Innovation Panel on

ICT

s
Publications (Selection)
Rehfeld, Dieter / Terstriep, Judith
2018: Regional governance in North Rhine-Westphalia – lessons for smart specialisation strategies? In: Innovation: the European journal of social science research 32, no. 1, p. 85-103. Published online: 10 Sep 2018. Weblink
Terstriep, Judith / Lüthje, Christian
2018: Innovation, knowledge and relations: on the role of clusters for firms' innovativeness. In: European planning studies 26, no. 11, p. 2167-2199 Weblink
Kleverbeck, Maria / Mildenberger, Georg / Schröer, Andreas / Terstriep, Judith
2018: Regional social innovation networks. In: Weber, Susanne Maria / Truschkat, Inga / Schröder, Christian / Peters, Luisa / Herz, Andreas (Hrsg.): Organisation und Netzwerke: Beiträge der Kommission Organisationspädagogik. Berlin: Springer, S. 355-374 Weblink
David, Alexandra / Terstriep, Judith
2019: Innovation in informal ethnic entrepreneurship: a result of the opening of the EU's borders? In: Ratten, Vanessa / Jones, Paul (eds.): Transformational entrepreneurship. London: Routledge, p. 58-77 Weblink
Show all Publications