Research department Health Industries & Quality of Life
The health economy is an important driver of growth, innovation and employment. In addition to the classic socio-political objective of providing health care to the population, attention to economic and structural policy tasks has thus grown continuously. The research department on health economy and quality of life (G&L) ties in with this new accentuation, with the aim of creating a demand-oriented supply design, identifying and overcoming innovation hurdles and demonstrating sustainable design options. In order to achieve these goals, a consideration is made on several levels, from which three thematic fields can be derived: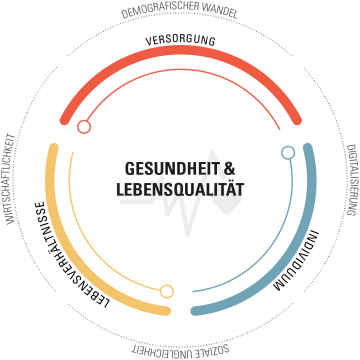 1. Supply
The primary goal of this topic area is the optimisation of health care at the national and international level. In addition to outpatient and inpatient care, this also includes other sub-sectors of the health economy such as rehabilitation, prevention, drug supply and medical technology. By analysing health care data, overuse, underuse and misuse are identified and eliminated through the development of cross-sectoral system solutions. The analysis of innovation conditions and development as well as their dissemination are also in focus here.


2. Individual Health
The health of an individual is determined by a number of factors. In this context, health development trajectories can be influenced even into old age - both positively and negatively. The aim of this topic area is to identify the different mechanisms of action and to evaluate their influence on health behaviour, health-related personal responsibility and health competence. The aim is to develop individual optimisation and prevention strategies for health.


3. Living Conditions
In the near future, demographic change will permanently transform society into a society of long life. The spectrum of products and services for older people, but also of forms of living and forms of lifeworld-oriented (self-)organisation is constantly growing. At the centre of the activities is the question of how such offers can be designed as precisely as possible despite the heterogeneity of the target group and which environmental conditions, organisational concepts and innovative technologies promote successful ageing.
The three thematic fields are not to be understood as separate research units; rather, there are a number of interfaces that are reflected in the activities of the research focus. The following social developments and trends can be identified as cross-cutting themes for all three thematic areas:
Demographic Change: The absolute increase in the number of older people is associated with a number of challenges. The spectrum of illnesses is changing and the need for nursing care is increasing. On the other hand, products and services that enable independent living even in old age offer opportunities for the economy and society.
Digitalisation: High-tech medicine in particular is already benefiting from the opportunities that can be realised through digitalisation. However, digitalisation has not yet arrived in many areas of the healthcare industry. In addition, new challenges arise in terms of ethics and law, which must be taken into account in the further expansion.
Social Inequalities: Health inequalities can be seen both in the prevalence of certain diseases and in the different levels of health and prevention behaviour. The analysis focuses primarily on the expansion of offers in the area of prevention and health promotion.
Economic Efficiency: From an economic point of view, companies in the health economy are of considerable importance. The classic core areas of outpatient and inpatient care take up the largest share, but marginal areas such as tourism or fitness can also be identified as sectors with strong employment. In addition, healthy workforces and good regional care are increasingly becoming conditions for success for a sustainably efficient economy.
Research methods
Health economic analyses
Health care analyses
ELSI/ ELSA accompanying research
Studies on technology acceptance and use
Neighbourhood development concepts
Formative evaluation studies