Sustainable production: challenges and objectives for EU research policy
Sustainable production: challenges and objectives for EU research policy; report of the Expert Working Group on "Competitive and Sustainable Production and Related Service Industries in Europe" in the period to 2020; final report. Brussels: Europ. Commission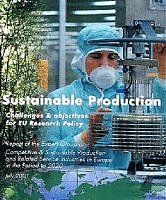 Berkhout, Frans / Cahill, Eamon / Potratz, Wolfgang / Roome, Nigel
The production sector and its services are central to human activity. The two major European strategic challenges binding on society, and accordingly on European industry, call for: (1) a maintenance of competitiveness and (2) a support for sustainable development.

European industry with its 40 million workers is the engine of the economy and has demonstrated the capacity progressively to decrease its environmental impact, following adequate research, technology development and innovation (RTD & I) efforts. The production sector will remain essential and of strategic importance for Europe. Facing the challenge of a competitive and sustainable European production system, the period to 2020 will require a more integrated and encompassing vision of RTD & I policies that takes account of economics, environmental and social dimensions.

This study was initiated and funded by the "Competitive and Sustainable Growth" Programme of the EU Research Directorate. The purpose of this report is to address:
the specific objectives and priorities for EU

RTD

& I policy, and in particular actions to be supported at EU level;
the appropriate combination of means of action to achieve these objectives, consistent with the broad policy framework definded in the Commission's communication "Towards a European Research Area" , and
the articulation and complementary between research policy and other policies, and between their instruments.